"IT IS THE RESPONSIBILITY of intellectuals to speak the truth and to expose lies." (N. Chomsky)
Noam Chomsky
*1928 in Philadelphia,
lehrt 1955-2017 am MIT, seit 2017 an der University of Arizona, Tucson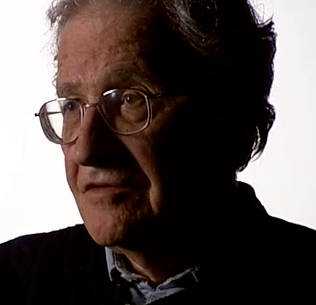 Sprachwissenschaftler
Geprägt durch Strukturalismus und Automatentheorie formuliert er Modelle Generativer Grammatik, zunächst mit Transformationen, dann mit Beschränkungen dieser Transformationen, schließlich mit generellen Prinzipien und Parametern, dann 'minimalistisch' fundiert (nur noch Lexikon und Berechnungssystem werden gebraucht, das Ergebnis struktureller Ableitung wird auf Wohlgeformtheit überprüft).
Hält Sprache für ein vages Konzept, glaubt nicht an die Möglichkeit einer Semantik, allein der grammatische Kern, seine Präsenz in der inneren Sprache, sei relevanter Gegenstand der Linguistik. Sprachgebrauch, sprachliches Handeln, Kommunikation und Text sind für Chomsly bedeutungslos.
"Virtually all of the use of language has nothing to do with communication. The idea that language has evolved as a system of communication, or designed for communication, makes no sense." (The State Press, 29.3.2019)
Chomsky vertritt eine Theorie der "Universalgrammatik", die grammatische Anlage ist genetisch bedingt und das Modul soll Art und Tempo des Spracherwerbs erklären, da Sprache im syntaktischen Kern nicht gelernt werde. Sprache ist strukturabhängig, sie wird auf der Basis eines spezifischen Wissens erworben und verwendet.
Es werden nur vorgegebene Parameter festgelegt, je nach Einzelsprache.
Untersuchungen zum Spracherwerb hat er selbst nie durchgeführt, Anwendungen und Umsetzungen haben andere Forscher gemacht, z.B. Steven Pinker, der einen Sprachinstinkt postuliert hat.
Wichtige linguistische Bücher:
R.C. Berwick/N. Chomsky (2016) Why Only Us: Language and Evolution. Cambride: The MIT Press
N. Chomsky (1957/1973dt.) Strukuren der Syntax, The Hague: Mouton
N. Chomsky (1965/1969dt.) Aspekte der Syntax-Theorie, Frankfurt: Suhrkamp
N. Chomsky (1981) Lectures on Government and Binding, Dordrecht: Foris
N. Chomsky (1986/1996 dt.) Probleme sprachlichen Wissens, Weinheim: Beltz
N. Chomsky (1995) The Minimalist Program, Cambridge: MIT
N. Chomsky (2000), New Horizons in the Study of Language and Mind, Cambridge:
University Press
N. Chomsky (2012) The Science of Language. Interviews with James McGivray. Cambridge: University Press
R. C. Berwick/A. D. Friederici/N. Chomsky/J.J. Bolhuis (2013) Evolution, brain, and the nature of language. In: Trends in Cognitive Sciences February 2013, Vol. 17, No. 2
N. Chomsky (2016/2016dt.) Was für Lebewesen sind wir? Berlin: Suhrkamp
Reader
J. McGilvray (2017²) The Cambridge Companion to Chomsky. Cambridge: University Press
Einführung in die syntaktische Theorie:
A. Radford (1997) Syntactic Structure and the structure of English. A minimalist approach,
Cambridge: University Press
G. Grewendorf (2002) Minimalistische Syntax. Tübingen: Francke
Evolution und die Chomsky-Theorie

M.T. Hauser/N. Chomsky/W.T. Fitch (2002) The Faculty of Language: What is it, who has it, and how did it eveolve? In: Science 298, 1596-1579
Zur kritischen Diskussion:
R. Botha (1991) Challenging Chomsky. The Generative Garden Game. Oxford: Blackwell
N. Evans/Levinson, S.C. (2009) The myth of language universals: Language diversity and its importance for cognitive science. In: BEHAVIORAL AND BRAIN SCIENCES 32, 429 –492
D. Everett (2008) Don't Sleep, There are Snakes: Life and Language in the Amazonian Jungle. London: Profile Books [Kritik an Chomsky / Universalgrammatik](dt. (2010) Das glücklichste Volk: Sieben Jahre bei den Pirahã-Indianern am Amazonas. Stuttgart: DVA
D. Everett (2005) Cultural Constraints onGrammar and Cognition in Piraha. In: Current Anthropology Volume 46, Number 4, August–October 2005
L. Hoffmann (2005) Universalgrammatik. In OBST 69 (2005) Paradigms lost, 101-131. preprint
S. Modgil/C. Modgil (eds.)(1987), Noam Chomsky, Consensus and Controversy. New York: Falmer
M. Piatelli-Palmarini (ed.)(1980), Language and Learning. The debate between Jean Piaget and Noam Chomsky. London: Routledge & Kegan Paul
J. Trabant (2012) Weltansichten. München: Beck
...und Kritiker/Dissident
Chomsky ist auch bekannt als radikaler Kritiker der US-amerikanischen Politik
und der Globalisierung von einem anarchosyndikalistischen Standpunkt aus, dazu
beispielsweise:
N. Chomsky (1999/2000dt.), Profit over People, Frankfurt: Europa Verlag: Hamburg/Wien
N. Chomsky (2017) Requiem for the American Dream: The 10 Principles of Concentration of Wealth & Power. New York: Seven Stories Press
N. Chomsky (2021) Rebellion oder Untergang! Ein Aufruf zu globalem Ungehorsam zur Rettung unserer Zivilisation. Frankfurt: Westend
Chomsky gilt als der meistzitierte Autor der Gegenwart.
Eine Biografie und ein Werkporträt:
R.F. Barsky (1997) Noam Chomsky. A life of Dissent. Toronto: ECW Press
(deutsch 1999: Noam Chomsky. Libertärer Querdenker. Zürich: Edition 8)
G. Grewendorf (2006) Noam Chomsky. München: Beck